Staff Sergeant James Prescott
Incident Report
HMS Antelope, Falklands
May 23, 1982
HMS Antelope, Falklands
Deceased
Details
Falklands Conflict
Staff Sergeant J. Prescott and WO II J. Phillips had on the 21st May 1982 removed a damaged fuze aboard HMS Argonaut a Leander Class Frigate as they were the most readily available team with the necessary equipment.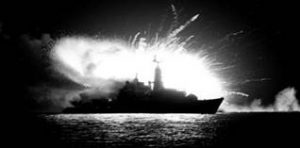 On the 23rd May 1982 both men were tasked with two bombs aboard HMS Antelope a Type 21 Frigate, which had been bombed in Saint Carlos Waters whilst providing anti aircraft cover for the amphibious force. The bomb was not accessible till extensive debris was removed. The second bomb was seen to have a damaged fuze and being in the most dangerous condition. Both men attempted three times to remotely remove the fuze unsuccessfully. On their fourth attempt using different equipment, the bomb exploded. Although a blast route of open doors and hatches had been prepared, a fully fastened door at the forward end of the passageway where they stood was completely blown of. Staff Sergeant J. Prescott died instantly and WO II J. Phillips was seriously injured. Following the detonation of the bomb and other ensuing explosions, HMS Antelope was torn apart, the ship abandoned and it finally sank on the 24th May 1982. Staff Sergeant J. Prescott was posthumously awarded the Conspicuous Gallantry Medal. The CGM is a very rare naval award, given to Petty Officers and men of the Royal Navy and Sergeants and men of the Royal Marines it may also be awarded to equivalent ranks in the Army and Royal Air Force. WO II J. Philips was awarded the Distinguished Service Cross. Details extracted from Designed to Kill. Major. A. Hogben.
Personal Details
23834301 Staff Sergeant
James Prescott
49 EOD Squadron
33 Engineer Regiment. EOD
James Prescott. Conspicuous Gallantry Medal. 49 EOD Squadron. 33 Engineer Regiment. EOD

The aim of the site is to provide a meeting point for all those involved in Explosive Ordnance Disposal (EOD) or Search whether serving or ex-serving members of the Royal Engineers and a source of material for those researching the work of the Royal Engineers or family history
If you wish to donate to the running of the branch, please use the button below.